School Councillors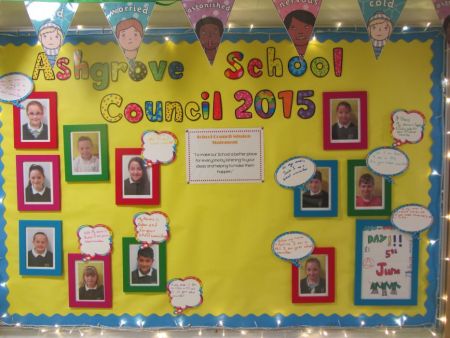 Our School Councillors
| | |
| --- | --- |
| Primary 4 McA/M | Ben Harrison & Katie McAllister |
| Primary 4 A | Curtis Rollins & Isabella Worthington |
| Primary 5 C | Dylan Choudary & Ellie Davison |
| Primary 5 L | Reece Gilmore & Neve Morris |
| Primary 6 M | Jamie Scott & Rachel O'Hara |
| Primary 6 E | Jason Hetherington & Paulina Zdolska |
| Primary 7 A | Callum Lockhart & Eva McCrory |
| Primary 7 H | Ben Erwin & Sophie Crumlin |
School Council Mission Statement 2015
"To make our School a better place for everyone by listening to your ideas and helping to make them happen!"
Why do we have a School Council?
A School Council is a formal group of pupils within a school who are elected by their peers to represent them and their views. The effective use of our School Council reflects the inclusive ethos of Ashgrove Primary. Our school council provides a meaningful way in which pupils can voice their opinions and have their views taken into account in decisions which impact upon them.
Our School Council...
Ashgrove Primary has an excellent group of sixteen School Councillors who help make certain decisions in the school. We have our very own School Council display and Noticeboard in school which helps to share key messages.
Recently the School Council helped us create our own definition of Bullying...
"Bullying is behaviour which is done ON PURPOSE and happens over and over. It can make people feel hurt and upset. It can be verbal, social, physical or aggressive behaviour which is caused repeatedly by a person or group of people. It can mean that someone is picked on or made fun of almost every day. Not all bad behaviour is bullying. Some bad behaviours may be done only once or by an accident but bullying is planned and keeps happening."
Ashgrove School Council
This definition is now included in our Anti-Bullying Policy.
"The standards the children attain are high"
ETI 2016